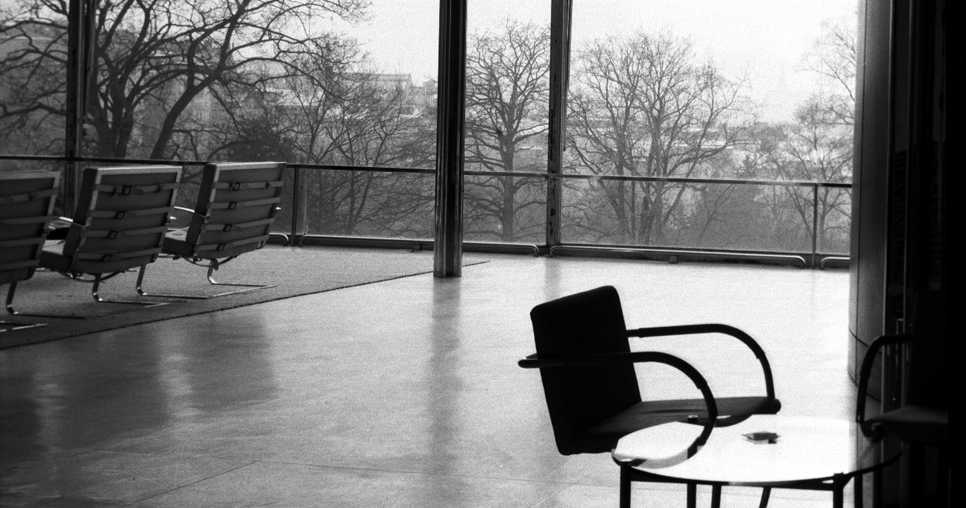 2005, Photo: Daniela Vokounová & David Židlický
Tugendhat Villa has been under the administration of the Brno City Museum since the 1st of July 1994 and open to the public as an installed monument to modern architecture. As of the 1st of January 2005, a Study and Documentation Centre (SDC-VT) has been situated directly in the building. Its main aim is to first and foremost accumulate facts and documents regarding the building, the architect and the commissioners, as well as the fate of the structure after the departure of its owners, along with the people and events connected with the Villa over the entire period of its existence.
The study centre in Tugendhat Villa is also focused on wider historical circumstances with an emphasis on Brno architecture from the 19th century up to the present. In this respect SDC-VT is developing independent scientific research and publication activity in close cooperation with the workplace of the history of architecture and city planning of the Brno City Museum which contains, among other things, the original planning and photographic documentation of Tugendhat Villa. It will further cooperate with, for example, the Adolf Loos Study and Documentation Centre in Müller Villa in Prague (research cooperation on the project "Adolf Loos – Works in the Czech Lands") and additional institutions of this type in both the Czech Republic as well as abroad.
The study and research centre will be primarily available for use to the specialised public and students as well as for of course all those interested in the Tugendhat Villa and modern architecture in Brno. As of the year 2009 all of the documentation situated in SDC-VT has been systematically transferred into an electronic form with a selection available to the public on the Tugendhat Villa web pages.
The gradual building up of a library with both domestic and foreign literature about Tugendhat Villa as well as the European period of the work of Ludwig Mies van der Rohe is an essential aspect of SDC-VT. A significant part of the library collection consists of literature related to Brno architecture of the 19th century up until the present and modern architecture within the territory of the Czech Republic in general. The books are also supplemented by articles taken from both domestic and foreign specialised periodicals.
The study and documentation centre in Tugendhat Villa is currently available for researchers at any time upon agreement ahead of time by telephone or email.